Cosmelan procedure – effective removal of pigment spots for a long time
Even in our seemingly dark and cool climate, people suffer from pigment spots. Dermatologists tirelessly recommend avoiding ultraviolet radiation from the sun and other factors that affect the health and appearance of the skin, but what about existing aesthetic problems? Daily skin care, classic chemical peeling and lasers can not always help.
Cosmelan (Mesoestetic), a professional treatment for hyperpigmentation, effectively reduces:
pigmentation spots;
melasma;
post-inflammatory hyperpigmentation (eg acne scars);
skin texture defects.
Cosmelan is a revolutionary procedure that not only reduces existing hyperpigmentation, but also corrects and regulates the process of melanogenesis. This means that the skin is protected from recurrence of pigmentation. After 2-3 weeks, significant improvements in skin structure are observed, pigment spots become lighter, skin quality is restored - skin looks smoother, its tone becomes uniform.

By comparison, laser procedures can prevent existing hyperpigmentation but cannot affect the synthesis of new melanin - there is no guarantee that the pigment will not regenerate.

Cosmelan is a two-phase peeling procedure. It is advisable to prepare the skin before the procedure. The specialist will explain in detail what will happen during the procedure and how to prevent possible side effects.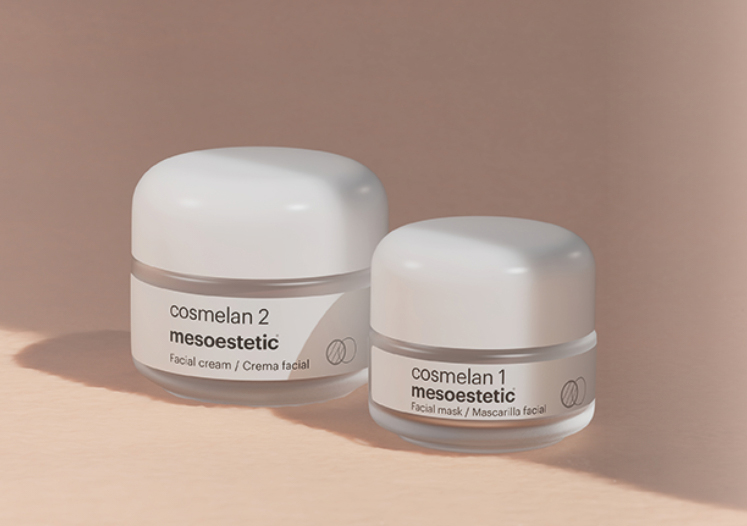 "Cosmelan 1" – application of a specific depigmenting mask for 8 - 10 hours. Thanks to the ingredients of the mask, the formation of melanin is reduced, dark spots on the skin are whitened and removed, as well as the formation of new spots is prevented. On the third day after the "Cosmelan 1" procedure, there is intense peeling of the skin. The mask is applied in the clinic, taking into account the client's skin type and skin condition. 
"Cosmelan 2" – the product is applied at home approximately 2 to 3 days after the "Cosmelan 1" procedure to prevent further pigmentation. It is based on a tyrosinase inhibitor and specific active substances that slow down the production of melanin.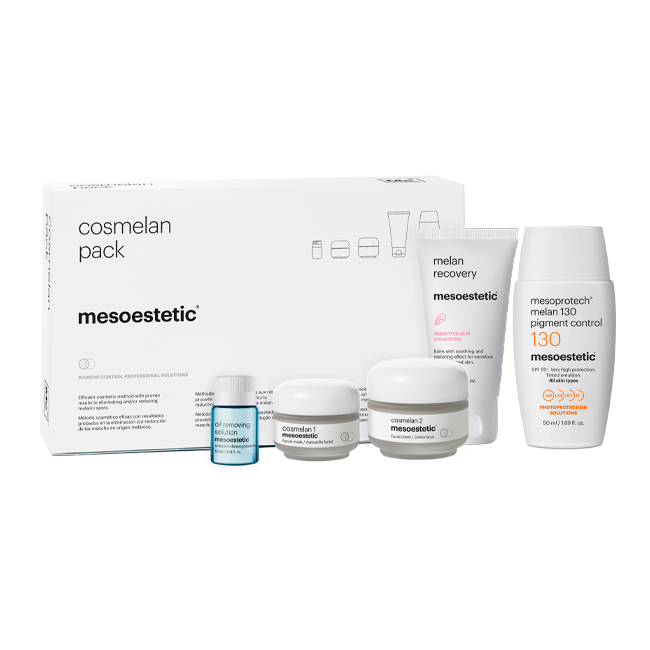 During the procedure, the client also receives two necessary skin care products for home use. The procedure is intensive and the client must strictly follow the recommendations of the specialist for the effect to be long-lasting.
Regular maintenance procedures are especially important in the treatment of melasma: In particularly difficult cases, the "Cosmelan 1" procedure is recommended to be performed on average every six months.  "Cosmelan 2" is recommended for about 6 months to prevent recurrence of hyperpigmentation.
Contraindications for the procedure:
allergy to any of the ingredients;
acute inflammation, wounds, rash;
six months after taking isotretinoin;
pregnancy and lactation.