Our body is a set of several functional systems that work as a whole through interaction. Wholesome operation of all the systems ensure health and well-being, as well as a long and active life. Emotional health and appearance are no less important. By taking this holistic approach, Anti-Aging Institute ensures comprehensive care for a customer's health and ageing process from "head to toe" (literally and figuratively). The institute implements cooperation of a multi-functional team of specialists and uses world class diagnostics and treatment devices. This complex of events is possible due to cooperation between Anti-Aging Institute and all "Veselības Centrs 4" medical units.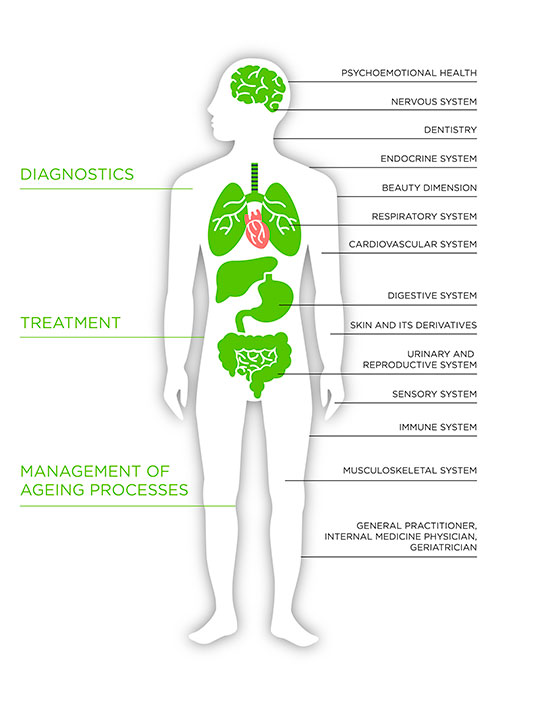 Endocrine system
Anti-Aging Institute's endocrinologists can monitor and timely diagnose changes that are related to the hormonal system and are caused by ageing and other factors. Anti-Aging Institute's customers are provided with access to endocrinology consultations and diagnostics (thyroid ultrasonography, hormonal and micronutrient blood tests, etc.), and hormone replacement therapy (HAT).
Immune system
In cooperation with Latvian and specialised international laboratories, a comprehensive range of analyses and tests is provided for detecting various allergies and substance intolerances, as well as for diagnostics of immune disorders.
Sensory system
Although ageing and related ocular changes is a natural and self-evident process, it's important to check eye health also for people without complaints. Customers of Anti-Aging Institute have access to eye examination and diagnostics (visual acuity test, measurement of intraocular pressure, biomicroscopy, eye ultrasonography, computer-assisted perimetry, optical coherence tomography) and treatment of eye disorders.
Ear, throat and nose health examination starts with an otorhinolaryngologist's (ENT physician's) consultation and, if necessary, proceeds to specific tests, visual diagnostics and creation and implementation of an accurate treatment plan.
Skin and its derivatives
Anti-Aging Institute provides customers with various solutions for dermatological and cosmetic skin problems: diagnostics of new skin formations (digital dermatoscopy with Fotofinder and MoleMax), facial skin diagnostics (with VISIA system), device procedures for improving the health and appearance of skin, procedures for treating excessive sweating and acne, as well as injections that make the skin healthy and glossy.
The hair condition is not only an aesthetic, but also a medical factor that could indicate other health problems. Comprehensive diagnostics of head skin and hair conditions with the most recent testing methods (FotoFinder Trichoscale technology, trichogram, microscopy, etc.) allow to create a precise treatment plan that could include mesenchymal stem cell therapy, PRF procedures, laser therapy or mesoprocedures.
Nervous system
Neurology is the most representative example of interaction between body systems – the nervous system encompasses all internal organs and blood vessels. Nervous system diagnostics includes examination of cranial and cervical blood vessels with duplex Doppler ultrasonography, radiography, neurography, electromyography, electroencephalography, vascular Doppler ultrasonography, computer-assisted tomography, magnetic resonance imaging, etc.
Cardiovascular system
In addition to a cardiologist's consultations, AAI customers are provided with comprehensive functional diagnostics (ECG, EEG, CAT, veloergometry, cardiopulmonary stress test, etc.), as well as genetic tests for detecting the risk of cardiac disorders (CARDIOgen). Cooperation with highly qualified vascular surgeons guarantees effective treatment.
In cooperation with experienced specialists, Anti-Aging Institute helps its customers to take care about the health of their veins, by ensuring diagnostics with the most recent medical technologies (duplex ultrasound, spectral analysis, duplex scanning with Doppler spectral analysis) and effective and personalised treatment (vein closure with biological glue, laser surgery (including TOTAL EVLA method), steam microimpulse methods, radiofrequency surgery, foam sclerotherapy, etc.).
As for proctological matters (most commonly, haemorrhoidal disease), proctological tests are performed (rectoromanoscopy, irigoscopy, fibrocolonoscopy, defectography, rectal and perineal ultrasonoscopy, etc.) and, depending on the specific case, the most suitable treatment methods and their combinations are provided: conservative treatment, the biological glue method, foam sclerotherapy, laser manipulations, the THD method, etc.
Respiratory system
Respiratory and pulmonary health is affected by several factors – both congenital and external (lifestyle, climate, diseases). The respiratory health check-ups are performed, by analysing external respiration functions, diffusing capacity of the lugs, radiography and pulmonary computer-assisted tomography.
Digestive system
Health, well-being and appearance is closely related to functioning of the human digestive system. Gastroenterologists, nutritionists and dietologists are the ones who are taking care about the health of this system.  Customers of Anti-Aging Institute have access to the most accurate tests for digestive system (including, breath tests), diagnostics of microbiome and helicobacteria, as well as visual diagnostics. In cooperation with Latvian and specialised international laboratories, a comprehensive range of analyses is provided. The test results allow to create an accurate plan both for solving the gastrointestinal problems and correcting weight.
Urinary and reproductive system
Intimate and reproductive health is a concern of both women and men throughout their lives. Customers of Anti-Aging Institute can visit gynaecologists and urologists for consultations and have access to a wide range of laboratory and visual diagnostics tests.
The modern equipment ensures premium class examinations during pregnancy and mammography with tomosynthesis.
Aesthetic gynaecology allows to save and restore intimate comfort and self-confidence in any age. Aesthetic gynaecology services in Anti-Aging Institute include laser procedures, gynaecological injections (NEAUVIA ORGANIC injections of hyaluronic acid, I-PRF* injections), as well as plastic surgery of the intimate area.
Musculoskeletal system
Health issues related to this system in Anti-Aging Institute are solved in cooperation with orthopaedists, orthopaedic technicians, rheumatologists and physical therapists, by implementing a set of rehabilitation activities for improving the general physical condition (physical therapy sessions, massage, device procedures, etc.), as well as by ensuring accurate diagnostics with the most recent equipment (including, osteodensitometry and body mass and composition analyses with Hologic Horizon W device).
Beauty dimension
Customers of AAI have access to various facial and body plastic surgeries (eyelid/ear/nose correction, facial plastics, breast enlargement/reduction/lifting/abdominal plastics, scar correction, etc.).
Beauty injections (botulin toxin, hyaluronic acid fillers, Mesofiller® injections, PRP Cellular Matrix™ and I-PRF Matrix™ plasmotherapy, Belkyra® injections) are effective for treating wrinkles and crow feet, they improve the oval shape of the face, reduce the double chin and allow to achieve healthy and shining appearance.
In Anti-Aging Institute, aesthetic laser therapy in the field of dermatology and aesthetic medicine is used to treat pigmentation problems, scars and stretch marks, to remove tattoos and permanent make-up, to rejuvenate facial, neck and cleavage area, to treat acne and to remove excess and ingrown hair.
Customers of Anti-Aging Institute can choose from a wide range of body shaping procedures: various breast and body care procedures that use the most recent beauty care technologies (Lutronic enCurve, Elos, VelaShape II, VelaShape III, UltraShape Power, Alma Accent Prime, LPG, etc.), as well as massage and water procedures (Charcot shower, Scottish shower, underwater massage, etc.).
Psychoemotional health
Psychotherapy is important in the anti-ageing field – the mental state directly affects a person's health and physical well-being. Customers of Anti-Aging Institute have access to consultations on mental health and healthy ageing.
Geriatrician
Anti-Aging Institute geriatricians are working with senior customers. A geriatrician ensures creation and implementation of a preventive anti-ageing plan, as well as a set of measures to solve existing geriatric problems (physical, mental and social changes).
General practitioner, internal medicine physician
Professional general practitioners and internal medicine physicians are taking care of Anti-Aging Institute's customers' health in general and they are able to determine what are the individual health issues for each customer and bring in the relevant specialists.
Dentistry
Anti-Aging Institute in cooperation with Diplomatic Service Medical Center and the best specialists in dentistry provides cutting-edge dental and orthodontic services. Clients are offered an opportunity to take care of health and aesthetic beauty of their teeth. AAI clients are offered a wide range of dental services: dental hygiene, dental treatment, prosthetic replacement, endodontics using a microscope.