Get radiant skin with ALMA Lasers Harmony®XL
If you are looking for reliable technology that meets the highest standards of aesthetic dermatology, one of the greatest solutions is the ALMA Lasers Harmony®XL laser device.    
It gives an opportunity to address several issues related to skin condition during a single treatment, for example, when treating acne with laser, treatments to prevent scarring or reduce the effects of acne can be performed at the same time. The technology allows combining the effects of laser and radiofrequency, using ultrasound for deeper penetration of care and remedial agents into the skin, replacing injections, and performing other related manipulations. 
With ALMA Lasers Harmony®XL, laser peeling and ipixelQSW laser therapy can be performed on all skin levels to eliminate various tattoos and age spots.  
The technology is indispensable for the neck, décolleté and eye area which are the first ones to be affected by the signs of ageing. 
The ALMA Harmony laser can reduce fine lines and wrinkles not only on the face and neck, but also in the particularly sensitive areas around the eyes and lips.  ALMA Lasers Harmony®XL treatments can be an excellent addition before and after eyelid surgery (blepharoplasty) to reduce the healing period and generally improve the result.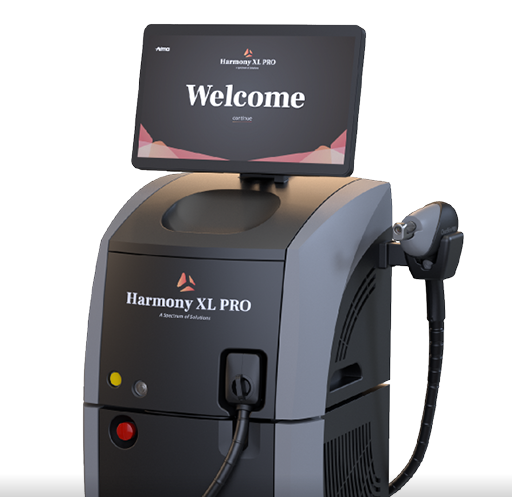 For clients with problem skin and acne, treatments can be combined during the procedure to simultaneously treat inflammation and reduce the resulting scarring and redness. ALMA Lasers Harmony®XL is a safe and painless method with an instant effect.
ALMA Lasers Harmony®XL treatments are recommended:
to solve dermatological issues (acne, masses, etc.);
to remove scars, age spots, tattoos, signs of ageing;
to gradually tighten enlarged pores;
to eliminate small superficial vascular lesions and spider veins.
Consult a specialist before undergoing the procedure!