''Anti-Aging Institute'' offers Covid 19 antibody test
"Anti-Aging Institute" provides an opportunity to identify class IgG antibodies to SARS-CoV-2. In the event of Covid-19 infection, the body develops class IgG antibodies relatively early and their presence can be detected for the longest period of time. Therefore, the test for this antibody is considered to be a reliable element of having had a Covid-19 infection.
The importance of the test:
Covid-19 can be symptom-free(1).
If the body has encountered a virus, it can develop antibodies over time, even if the disease was symptom-free(2). 
SARS-CoV-2 IgG test identifies the antibodies developed in the body of an infected person(3).
The identification of antibodies helps finding out whether the particular person has been in contact with Covid19(3).
 
Presence of various biomarkers depending on infection phase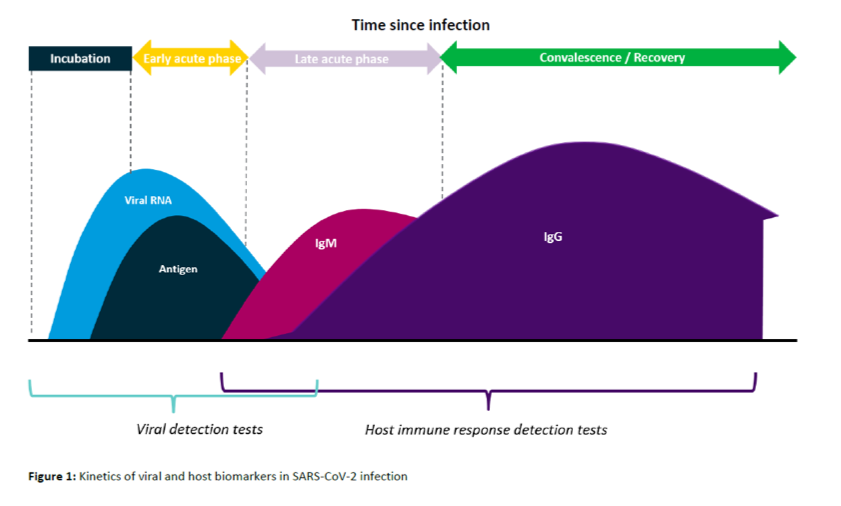 Procedure of the test 
Arrive at the centre to perform IgG antibody test, observe the precautions established by the medical institution.
Customer's blood sample will be taken in order to perform the test.
You will receive the test result on the next business day on www.datamed.lv platform (access by using the Internet banking service authorisation, or by receiving a link and code to your telephone).
You can make IgG antibody test at the following branches of Veselības centrs 4:
117 Barona Street, Riga,
180 Brīvības Street, Riga,
Anti-Aging Institute, 18 Baznīcas Street, Riga,
5 Atpūtas Street, Valdlauči, Ķekava Parish
Please note!

IgG class antibody test is a valuable diagnostic component, but it may not be used alone to confirm a history of Covid-19 infection. To establish a reliable diagnosis of the infection, a consultation of a physician is required, who will perform clinical evaluation of the patient and, if required, refer the patient for further examinations.
 
(1) World Health Organization: https://www.who.int/news-room/commentaries/detail/immunity-passports-in…, Accessed on 8th May, 2020 
(2) Abbott ARCHITECT SARS-CoV-2 IgG Instructions for Use. H07891R02. April 2020 
(3) ARCHITECT Systems Operations Manual. 96211-118